The meeting was well attended, with about 45 present. Curtis did a great job of leading a series of informative short talks on a wide range of topics on surface decorations.
Don Jensen (at left) - Fake Gold Leaf
Don gave a good description of how to use a gold leaf kit to first add adhesive and to work the gold leaf into the surface followed by an acrylic coating.
Peter Pipe (at right) - Easter eggs
Peter described in detail how to make an Easter Egg. See the homepage for a link to his written directions.
The egg is easily shaped from a spindle turned piece if you taper one side and make the other side a half sphere.
George Lutz - Dyes, stone inlay
George showed examples of inlaid stone. See the pic below left. See Hatcher demo page for more details and advice on how to do and acquire the materials.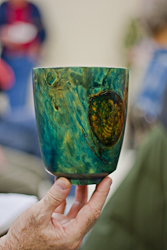 There was also discussion on dyes after bleaching the wood, as Pytlik demo displayed. Applying the dye from the inside of the turning allows for the appearance on the outside to take the wood grain pattern, as exampled from the piece at right.
The full report on that demo day can be found here: page. With the list of the best Bleaches to use.
Tom Haines - Epoxy grouting in woodturning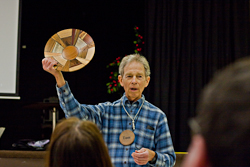 Tom detailed how the epoxy can be used in woodturning, with the challenge being the sagging and flow before it sets up. Getting rid of the air bubbles by putting the piece while curing in a vacuum chamber is required along with keeping the epoxy in place.
Claude on torching:
The key in torching is having a good flame width such that the burning of the wood is on the surface and not into the wood. antique look can be achieved with this and light sanding.
Thanks to Carolyn for the photography.